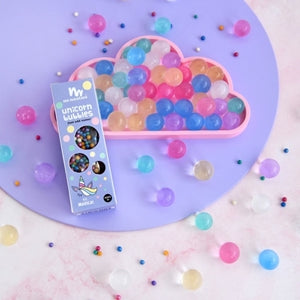 No Nasties Waterbeads Unicorn ***Limited Edition***
How do you use No Nasties Water Beads?
You are limited only by your imagination when it comes to our water beads – which is what makes this product so much fun.
Littlies (4+)
Colour sorting, water play, counting, colourful playground (in a bowl), pretend cooking, sensory play, fine motor skills, bouncing, rolling, fairy gardens, make a fairy rainbow, in the bath (remember to sieve them out before you let the plug out!)

Bigger Kids
Sensory play, treasures, bouncing, fairy gardens, dinosaur lands, colour sorting, in the bath (remember to sieve them out before letting the plug out!), great for show and tell

Adults
I LOVE the feel of water beads! Full disclaimer, they are addictive to play with! In a gorgeous glass bowl on the bench, they are pretty and colourful and the feel of them is such a stress release. Dip your hand into a bowl of these and they feel amazing!

Our water beads are biodegradable, simply put them in your garden when you are finished and cover with soil.