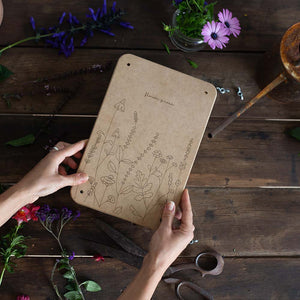 Giant Flower Press - 20cm x 30cm
Regular price $89.00 Sale
Flowers blossom & wither but their beauty can be eternalised.
Sow n' Sow's hand-crafted Flower Press allows your flowers, blossoms & flora to be preserved to become works of art.
Simply pick your pretty blooms from the garden, arrange them on the sheets of cardboard provided & tighten the nuts. Leave the blooms for 3-4 weeks then use your beautiful dried posies to adorn gift cards, picture frames or whatever your heart desires.
Featuring a gorgeous illustration by Daniella Germain, each press is hand crafted in Australia out of hard-wearing materials to ensure stable pressure & long-lasting use.
Includes: Engraved top &bottom backing boards (MDF), cardboard separating layers x 5, nuts & bolts.