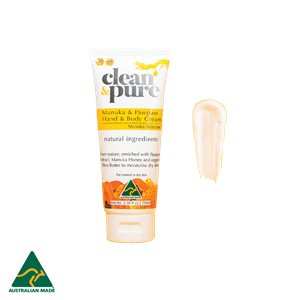 Clean & Pure - Manuka Hand and Body Cream 100ml
Regular price $27.95 Sale
Inspired by nature and enriched with Pawpaw extract, Manuka Honey and organic Shea Butter to moisturise dry skin.
WA made and produced Manuka Honey Skin care
• Containing only Australian ingredients that are sustainably sourced, each natural skincare product from Clean & Pure is organic, safe, and incredibly nourishing.
• All natural and nasty free.
• The hand & body cream has a grading on the Manuka honey 400MGO rating certification is of a hospital grade.
• Enriched with Fair Trade and Organic Shea Butter and Aloe Vera
• Inspired by Australian nature with Macadamia Oil & Tazman Pepper
• Designed to moisturise dry & cracked skin
• Non-greasy formula
Clean & Pure's moisturising Hand & Body Cream is part of the Manuka Skincare line of natural skincare products.