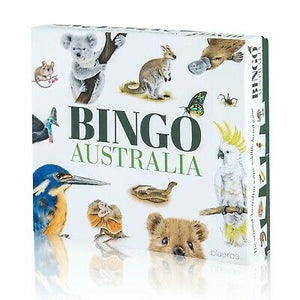 Bingo Australia - Board Game
Regular price $49.95 Sale
Bingo Australia captures the essence of Australia in a wonderfully enjoyable board game.  Players travel across the great nation, enjoying the rich and rare beauty of Australian wildlife. It's an adventure not to be missed!
Spy scorpions in the sunburnt outback.  Hark at the sound of the laughing king of the bush.  Wonder at the slithering snakes in the lush tropical rainforests! And, if you're game, take a dip with a great white shark in the sparkling Pacific Ocean.
You'll learn about some of Australia's most recognisable faces. They're featured in 64 delightful hand-drawn images, created by an award-winning Australian artist.
This is a fun and educational game, perfect for nature lovers, young and old. Whether you're a seasoned sun bronzed Aussie or just visiting, you'll fall in love with this wonderful selection of beautiful and bizarre animals.
Nothing brings people together like a good old-fashioned board game. Can't you just hear the screams of Bingo as players travel across the land down under?
But more than just being fun, this game is hugely educational. Accompanied by a fact filled booklet, players will learn whether the Australian Tarantula's bark is worse than its bite. They'll find out why Quokkas are so terrifically happy. They'll discover where in the great Southern land they need to go if they want to see a hairy nosed wombat (and even what surprising shape its poop is).
Fill up your card and get ready to shout BINGO!
It's a ripper game, mate!
Key benefits
Beautiful quality gift for loved ones
Educational value - players learn about the unique Australian native wildlife in the accompanying easy to read fact booklet
Designed by an Australian owned business passionate about Australian wildlife
Illustrated by acclaimed Australian artist