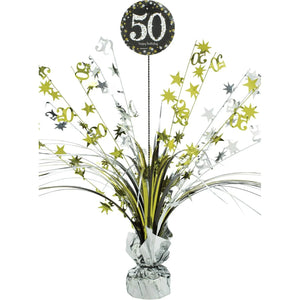 50th Birthday Foil Spray Centre Piece
50th birthday foil spray centrepiece.
Show everyone it's your milestone 50th birthday with our shiny 50th birthday foil spray centrepiece!
Decoration measures 46cm tall and base is approx 7cm diameter. Base is weighted so helium balloons could be tied to it to add to the decoration.
Consisting of black, gold and silver foil strands with "50" silhouettes and star shapes on the ends and a "50th" cardboard header at the top, this elegant centrepiece decoration is perfect for adding a touch of glitz to tables at your 50th birthday function. Position it in the centre of your party table or on party food trays for a fabulous 50th finish.